05/15/2014 02:13 PM
General Joseph Hooker & Hookers?
There is a map (held by the Library of Congress) that surfaced online recently that depicts Washington, D.C., and in particular the White House. It was noted that at one time, within sight of the White House there were 50 saloons and 108 'bawdy-houses' (brothels) in the infamous Murder Bay neighborhood. It is taken from a newspaper clipping from the 1890s and can be found at Slate. According to the...

04/19/2014 03:46 PM
I was interviewed by Jane Johansson for her The Trans-Mississippian Blog
Dr. Jane Johansson is a professor of history at Rogers State University and operates The Trans-Mississippian Blog. She was kind enough to read my The 11th Wisconsin in the Civil War book and afterwards asked if I'd do an interview about the book and my experiences. It was honor to be asked and I was happy to do so. Here's a sample: Several months ago, Chris Wehner contacted me and...

04/16/2014 10:22 AM
Should the Civil War Death Toll be Reconsidered?
Our understanding and interpretation of the American Civil War relies partially on the death toll. Indeed, with regard to most conflicts the death toll is usually one of the first facts (data) that is discussed. The true death toll of the Civil War has been the subject of debate throughout the years; as well as on numerous blogs and websites including on here. Recent studies have determined that we probably have...

04/14/2014 09:31 PM
North Carolina Genealogical Society Journal & My "The Confederate Attack on Washington, N.C." Article
Finally received my copies of the February 2014 North Carolina Genealogical Society Journal which published my article "The Confederate Attack on Washington, N.C." In it I explore the nature of urban combat as the sacking of Washington, N.C. was one of the earliest known examples of fighting that involved citizens within a city who not only were victims, but took an active role in the engagement in some instances. The...

03/20/2014 12:05 PM
1,800-year-old letter from Egyptian soldier deciphered
According to news reports: "A newly deciphered 1,800-year-old letter from an Egyptian solider serving in a Roman legion in Europe to his family back home shows striking similarities to what some soldiers may be feeling here and now. Grant Adamson, a student at Rice University took up the task in 2011 when he was assigned the papyrus to work on during a summer institute hosted at Brigham Young University (BYU)....

12/05/2013 12:24 PM
The Gettysburg Story
'The Gettysburg Story' film dramatically tells the history of the greatest battle fought in the Western Hemisphere. Narrated by Stephen Lang (Avatar, Gettysburg) and directed by Jake Boritt, the stories of characters who experience the battle come alive through dynamic, innovative imagery that captures the historic battleground as you have never seen it before. Indeed, had a chance over the weekend to watch Jake Boritt's stunning portrayal of that pivotal...

11/22/2013 10:46 AM
General Grant and the Rewriting of History
This isn't a full blown review of Dr. Frank P. Varney's book, General Grant and the Rewriting of History, as I just started reading some of it yesterday. I'm jumping the gun here abit as after reading the Preface I could not put the book down. I believe it was Machiavelli who declared that you should judge a leader by those he keeps around him; his lieutenants, ect., the quote...

Database Statistics
Correspondences: 1,471
Soldier Profiles: 424

Soldier of the Moment:
Ritter, John A.
Full Name: Ritter, John A.
Home State: Indiana
Allegiance: Union
Unit/Service Branch: 49th Infantry
Bio: In November of 1860, Dr. Ritter enlisted as a volu...

Read more about Ritter, John A.

Featured Soldier Resource: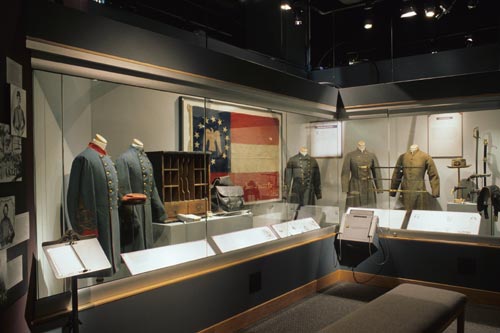 Soldiers on both sides spent much of their time in camp. Some military campaigns followed seasonal changes-battle in the spring and summer, camp in the fall and winter. Daily life in camp included drills and other military duties. Although soldiers complained of endless work and boredom, camp life also provided an opportunity to form friendships, reflect on loved ones at home, enjoy moments of recreation, and engage in spiritual renewal.

Wisconsin Goes to War: Our Civil War Experience