news & features
05/18/2013 03:15 PM
Battle of Big Black River Bridge
Colonel William H. Kinsman of the 23rd Iowa Infantry was a hero on May 17, 1863. After his smashing defeat at Champion's Hill, Confederate Lt. Gen. John C. Pemberton decided one last time to stop or at least slow Maj. Gen. Ulysses S. Grant's advance on Vicksburg at Big Black River and an important bridge that resided there. Brigadier General Michael K. Lawler's Second Brigade (21, 22, 23 Iowa, 11...

05/18/2013 01:22 PM
Book Review: The 14th Brooklyn Regiment in the Civil War
The 14th Brooklyn Regiment in the Civil War A History and Roster BY: Frank Callenda Regimental histories written today are a labor of love. A thankless task and one that does not pay well — you will never recoup the worth of time and money spent in monetary terms. But once again, that is not why we write them. With that said, Callenda clearly wrote about a group of men...

05/05/2013 03:38 PM
Milliken's Bend A Civil War Battle in History and Memory
Milliken's Bend: A Civil War Battle in History and Memory by Linda Barnickel Hardcover, 320 pages Linda Barnickel is described as "an archivist and freelance writer with master's degrees from the University of Wisconsin–Madison and The Ohio State University." Though not possessing a PhD, Barnickel is truly a historian and proves as much with her fine book, Milliken's Bend: A Civil War Battle in History and Memory. Her work has...

05/03/2013 04:23 PM
New Letter: Know that we are trying to do our duty to the best of our ability
Charles L. Harris, born August 24th, 1834 in Bridgeton, New Jersey, was a prominent Madison resident when the war broke out. He immediately enlisted and became a Lieutenant in the First Wisconsin regiment. Three months later he welcomed the rank of Colonel in the Eleventh Wisconsin, at the age of 27. A confident man of medium height (he stood 5'8"), Harris was well educated, having graduated from West Point, and...

05/02/2013 04:30 PM
This was done by an Alligator
Whenever I watch Swamp People I think back to the Civil War soldier trekking through the swamps and bayous of Louisiana or Mississippi and wonder how often they encountered alligators? I know, there are a ton of more educational topics to discuss — who cares, my blog! Alfred E. Waldo and his fellow 35th Massachusetts Infantry members arrived at Vicksburg, MS, on June 16th, 1863 during Grant's siege of the...

05/01/2013 09:44 AM
Soldier Studies: Battle of Chancellorsville
Major General Joseph Hooker actually had a pretty good strategic plan in place before the Battle of Chancellorsville. He intended to secretly march part of his army northwest, cross the Rappahannock and attack Lee's rear. Meanwhile, with Major General John Sedgwick and his 30,000 men at Fredericksburg, Hooker intended to hit the Rebels with a large double envelopment. He also initiated a cavalry raid (Major General George Stoneman) to Lee's...

04/30/2013 10:16 AM
Soldier Studies and Levels of Questions
I've been reviewing with my APUSH students for their upcoming AP Exam and thought about soldier studies and a few concepts that we cover over and over again in class, one being: Levels of Questions. Obviously as good stewards of history we know that how we frame our questions is very important and that we must use critical control when we do. With regard to history we focus on the...

Database Statistics
Correspondences: 1,456
Soldier Profiles: 421

Soldier of the Moment:
Fuller, Josiah
Full Name: Fuller, Josiah
Home State: Massachusetts
Allegiance: Union
Unit/Service Branch: 32nd Infantry
Bio: JOSIAH [Fuller] - Union 1st Lieut. 1st St. 32nd Ma...

Read more about Fuller, Josiah

Featured Soldier Resource: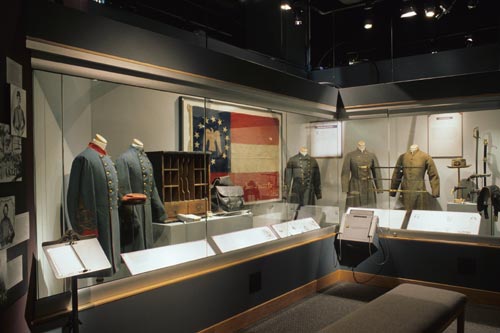 Soldiers on both sides spent much of their time in camp. Some military campaigns followed seasonal changes-battle in the spring and summer, camp in the fall and winter. Daily life in camp included drills and other military duties. Although soldiers complained of endless work and boredom, camp life also provided an opportunity to form friendships, reflect on loved ones at home, enjoy moments of recreation, and engage in spiritual renewal.

Wisconsin Goes to War: Our Civil War Experience